I can't believe I only have a week and a half left of my break from classes. Where did the time go? I have been knitting fast when I find the time to knit, playing a few video games, and reading some books for myself, but not nearly as much as I'd like.
Ah, bonus, I found Assasin's Creed at Best Buy today on sale, twenty dollars off the normal price. Sweet. I will be playing that some this week. I will try to enjoy the remainder of my break.
I just finished the Pirate Mittens, and they will be on the way to Anne tomorrow hopefully. The thumb could have been a little shorter, but I didn't realize until they were all done. I have a second pair planned in a different color combo, a slightly heavier yarn (DK instead of Sport like this pair) for myself. I will most likely shorten the thumb. Anyway, picture!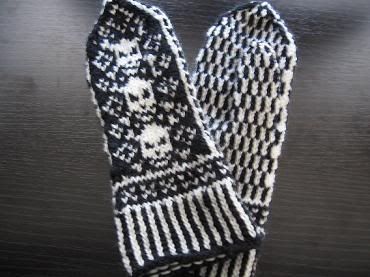 I had a little bit of trouble, but I'm getting better with the colorwork.
It is extremely windy outside and there are three bags of trash out on my balcony currently. The dumpster is empty, but the other residents during the week I was gone surrounded it with trash bags when it overfilled so now it is unreachable. I don't particularly want to add to the problem, but tomorrow, those bags are leaving the balcony whether I'm able to get to the dumpster or not.
I hope everyone has had a good holiday.