Little bit under the weather today, but I can't let it affect me. Too much homework to do. The week did not go as well as I would have liked, but it ended well. I got an A on my English Syntax midterm. I missed 3 and a half points. Two of those points I just made stupid mistakes. D'oh. I'm not quite as optimistic as my grades in my Shakespeare class, and have no idea in my Roth class.
I picked something up this swap/gift thing from Anne over on my livejournal:
For the first five people that reply to me and re-post this challenge - I will send you something that I think rocks.It might be something I've made or something that makes me think of you or something else that is awesome.Whatever it is, I promise that I will get it to you in 365 days or less.The only thing you need to do in order to participate is to be one of the first five to reply to this, AND post this very same thing on YOUR livejournal - cause it's fun to give people stuff.
1. Anne
2. Lauren
3. Scott
4.
5.
Well, I guess I don't really have enough friends to do five, but it just means I can spend that much more time on the three. I have ideas fo everyone, and am happy that I have a full year to get it all together.
Sigh, the dog woke me up whining at 6:30, and now he's gone to sleep.
Gratuitous roommate's dog photo just for fun: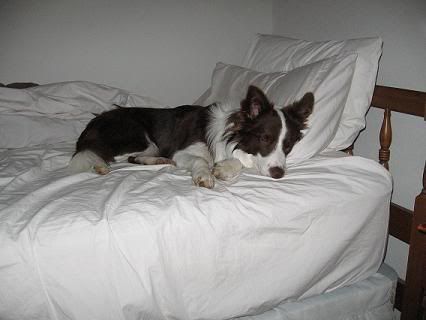 He's enjoying my bed.
Snarfle.