I haven't posted in a little while, mainly because of class. I had a midterm on Thursday in Syntax. I studied out the yang, but I spazzed out on the exam day. I'll hold my pessimism in until I actually get the grade. Here's to hoping.
Anyway, I have celebrated the end of the bad week with yarn. Hoorah yarn! I don't have pictures, but I have worked three inches on my first mitten (the cuff) and hopefully will have a lot more done by next time (enough to post pictures). Until then, I have some pictures of yarn projects.
First, some yarn that I have been looking all over for and didn't want to get off the internet because of shipping, I finally found at Old Town Needle: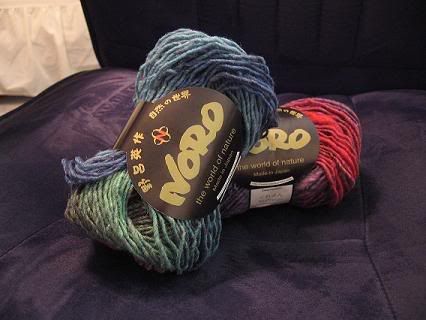 Isn't it pretty?? It will eventually be a hat for myself. Second, a WIP and a FO. The FO is a scarf for my mom for Christmas (the pinkish one). I'm quite proud of it. The brown WIP is the one I am still making for my friend. It's going irritatingly slow, and the scarf keeps curling. I'll wash it when I finish, and that should fix the curling...if I can finish it!
And for my next project, a scarf for myself, in the round:
The yarn is navy and made from alpaca and wool. It's super soft.
I still have homework to do, and I'll be visiting my mom tomorrow, so I won't have a lot of homework time then. I need to hurry up, but I'm lacking motivation. Surprise, surprise. Among the things I need to do: 1) Think up a topic for my final research paper in Shakespeare, 2) Write a response to Richard III, 3) Read a long chapter in my Syntax book, 4) Complete (and start...ahem) a project for Syntax, 5) And figure out my schedule for next semester.
I know I will definitely be taking Transformation of Literary Study and Visions of Freedom (Modern Lit), but I'm against taking Chaucer. I don't think I'd do very well in the class. And although it has been suggested, and I'd love to do it, I don't think I have the research base to do an Independent Study at this level. Ah well, I hope to get everything but the project done tonight so I can actually enjoy tomorrow without stressing over homework.
It's lonely out here.