Two 17-20 page research papers due in one month. One English Syntax Project and Final Exam due in one month. Regular homework in addition to aforementioned. One young lady slowly losing her sanity.
At least I have cookies. Anne sent me cookies, and they were delicious. Please note the "were." I would have taken a picture of them, but somehow, on the journey to get my camera, the cookies disappeared. Into my belly. Hopefully I can return something to her within the next two months.
Homework has seriously hindered my knitting time, but nonetheless, I have pictures for you:
Progress on the mittens thus far. Basically I make the entire mitten in one go, fold it over, and seam up the sides. I'm working on the thumb right now. Only I haven't really worked on it for about two weeks because I've been so busy.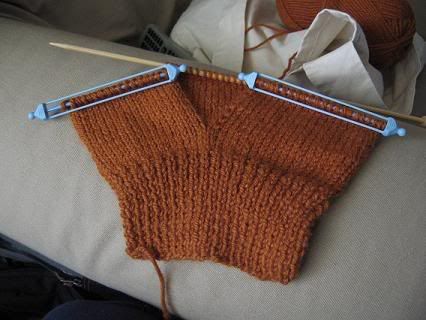 I also made some of my first attempts at cabling, and I have to say, I want to put cables in EVERYTHING now Sorry for the poor quality of the images, but I just cannnot take good pictures.
And a close up of the cables (the underside looks exactly the same):
The scarf pattern is Palindrome by Kristin Bellehumeur, and the mitten pattern is from a pamphlet by Marion Graham.
Today I hope to do a few more inches on the Palindrome scarf, finish the thumb on the mittens, read the very last bit of American Pastoral for my Philip Roth class, read Chapter 8 and 9 in my English Syntax book, and work through some of my Shakespeare class' Annotated Bibliography and Project Proposal. If I get this work done today, I can work on my research projects tomorrow and Monday. I also have knitting class on Monday, so I need to finish the mitten thumb by then.
Last night I watched
Critters
with my roommate last night. I'm not sure how many of you know about this little gem, but it is quintessential bad 80s horror comedy. Well, the day is already half gone, and I need to get started on my work. I can't wait until the end of this semester..
Oh, also, I updated my amazon wishlist on the very off-chance anyone decides to get me something from it. Just have it list by priority and you will see what my little heart desires most.